MENTOR VERSION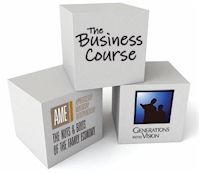 This is a new version of the Business Course sponsored by AME and Generations with Vision.
It is designed to be led by a Mentor (an adult with some business experience).  This version does not include any email tutoring that comes with the Standard Version of the course.
A downloadable Mentor Manual is available for the mentor who will lead you through this version of the course
Select your credit card payment option below by pressing the appropriate yellow button
MENTOR VERSION MONTHLY MEMBERSHIP (Immediate access to 1st 3  Sessions for first month and then a new Session every 2 weeks until all 16 are posted in your members area):  

---
MENTOR VERSION LIFETIME ACCESS (One Payment and immediate access to all 16 Sessions):

---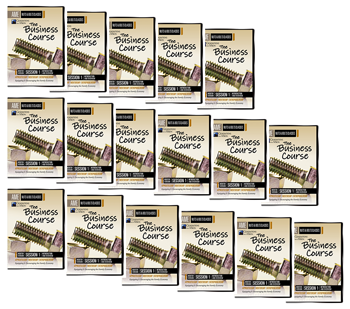 MENTOR VERSION DVD Set  (One Payment – 17 DVD's, including one DVD with all download files for Mentor Manual and Assignments – no online access):

---
Here is an overview of the course:
Session 1 – Introduction and overview to the course.  Discovering your passion for business, and understanding "why you want to start one.
Session 2 – Glossary of Business Terminology.  This will equip the student with business terms and their meanings that are used throughout the course.
Session 3 – Basic Business Accounting- Understanding the financial side of a business including cash flow, assets, liabilities, and financial statements.
NOTE: With our monthly membership model you get immediate access to the first three sessions upon successful registration. Each additional session is released into your members area about every 2 weeks until all 16 sessions are available.  With the one-time lifetime access payment you will get immediate access to all 16 sessions
Session 4 – Setting Up Your Business – An overview of the legalities involved in setting up a business, and how to structure your "entity."
Session 5 – Choosing a Business – Not sure what you want to do?  We will look at the balance between your interests and researching the needs of the market.
Session 6 – Budgeting and Record Keeping – Building off of the concepts learned in Session 3, the student  learns how to create a budget and how to keep track of the financial transactions of a business.
Session 7 – Mid -Term Review & Understanding profitability as it relates to product costs and what is charged and how to create a "proforma."
**If taking during a  September-May school schedule this is where you would insert your Christmas break **
Session 8 – Business Communication and Etiquette – learn how to properly and professionally communicate with your customers and when to use contracts.
Session 9 – Record keeping, filing, and time management – the essentials of a record keeping/filing system and how to manage your time.
Sessions 10 – 12  –  How to write a marketing plan (3 parts) – These sessions show how to get customers to to buy your products or service.  The student will learn how to write a marketing plan, create a unique selling proposition, set marketing goals, and determine which media strategies will be best for their business.
Session 13 – Copywriting/Designing  a Brochure – principles of copywriting and design.  How to produce a professional sales piece on a shoestring budget.
**If taking during a  September-May school schedule this is where you might insert your Spring break **
Session 14 – How to build your own website for under $100 – using free or low-cost tools. Plus optimizing your site for search and social media.
Session 15 – Case Studies – looking at existing businesses and how you can learn from them to start your own.
Session 16  – Review of the course and insights on how to really launch and get started with what you have learned.
As you can see the course is quite extensive but is presented in a manner that will be understood by a high school student or older.  We even encourage parents and siblings to get involved should there be a combined desire to set up a family enterprise.  The course tuition is charged by family unit, so multiple children can participate at no additional cost.
---